NEWS 19
Update October
Unfortunately, the Hammetts were not successful in the draw for supporting HISTT as a charity in the London Marathon - pity!
Thursday Club - Report from Catherine Massey
"Back in April 2019 the Thursday Club received three quarters of the funds required for a DI course being held at the Club from HISTT.
HISTT, quite rightly, felt it was important that the participants should make a contribution towards the cost of their course.
There were three youngsters who had achieved the required standards to attend this course and we are very pleased to say all three successfully passed.
They had all been helping at the Thursday Club for a number of years, so it was a pleasure for us to give something back to them with the help of the grant.
Since the course, two of them have now managed to get jobs in the industry as well as still helping with Thursday Club. The third continued to help us, until the age when it was sadly time for him to leave school. He has now achieved an apprenticeship but still helps whenever time permits.
I have noticed a pattern is becoming apparent around youngsters who volunteer for the Thursday Club and gain qualifications, in that they don't appear to have problems getting jobs when they leave school or university. This is in no small part because they have a good work ethic and enjoy giving back. I feel, as a result of the partnership between the Thursday Club and HISTT, we give to them and they then give back to us. Without this, the Thursday Club would quite probably not enjoy the great success it does."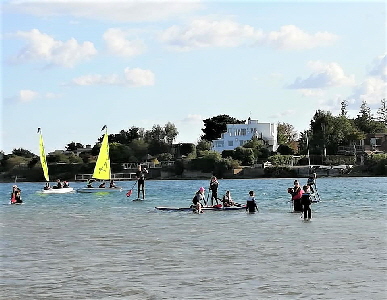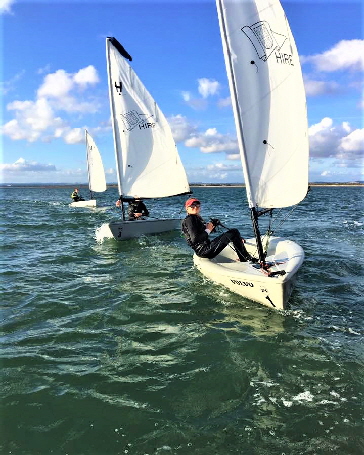 All sorts in the lagoon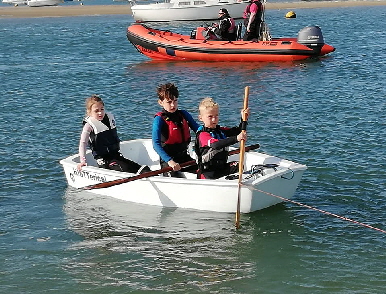 Ultimate sailing for not so beginners on a very windy day
Pics by Xan Carr and Sarah Mitchell (right)
Alternative Oppie on a rope!
Hayling Rescue - At the end of May HISTT paid out £632 for Frank's rib for work on the annual refit
In the middle of June, it was £1707 for an new heat exchanger for the engine and repairs to the starter motor
Then in August, £814 for ongoing engine repairs and maintenance and another £735 to repair the steering
So keep your donations for Frank coming in - we cannot do without him!..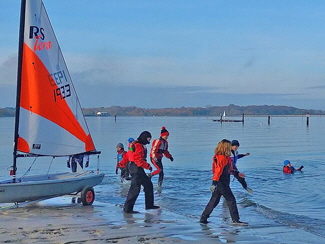 Youth Training - This month we have received an application for funds from the Tera Fleet Captain. This year there are not so many applicants for the Winter training - unlike last year when there was a glut of them. As a similar number of coaches and ribs are needed this makes it unreasonably expensive for each sailor per class - so we are helping out to the tune of £320.
We are expecting an application from the Feva Class as well, although we gather they have more applicants for their training.
This funding is very worth while as the classes have expanded tremendously and all the children enjoy themselves and compete very well nationally as well as locally. Picture by Dawn Ripley
Update May
HISTT has just received the last of the donations collected at the funeral and in Memory of Chris Rowland. A total of £1640 has been donated, including Gift Aid, which will come in very handy as the invoices for the winter maintenance on Frank's rib are starting to come in. HISTT has just paid out of Frank's account £345 for a JET ALUMINIUM ANODE KIT. But this is just for starters!!
Paul and Susie Hammett are planning on doing the 2020 London Marathon and would like to raise funds for HISTT. HISTT has, therefore, duly been entered in the Charity ballot and we await to hear in September whether we have been successful in gaining a place for the Hammett family. They will make their own entry as well and will be looking for sponsors if accepted
Update April
Thursday Club
An application for funds to pay for a Dinghy Instructor course to include a per-assessment day was granted and £945 paid over
Hayling Rescue
The Rowland family came to visit HISC and HR Rib on Saturday, April 13th and hear in detail from Frank about the rescue
Chris Rowland's ( deceased) account of Rescue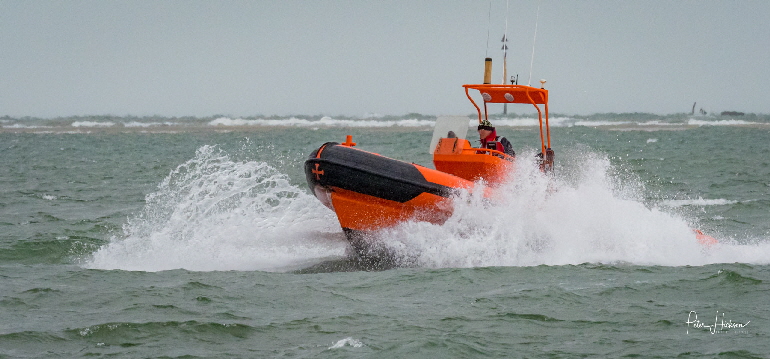 I Learned about Sailing from That
In July 2008 I joined in a windsurfing cruise around Hayling Island. The weather was set fair for the rounding, but with a promise of Force 4-5 in the afternoon, the consensus was for 6.5 sq m sails rather than our usual 7.5 sq m. We launched from the public car park at the Beachlands (West) end of the sea front for a clockwise circumnavigation of the island. We would make the final leg from Hayling Island Sailing Club (HISC) to the car park on an outgoing tide close to a full ebb.
We set off from Beachlands about midday and quickly sailed to the entrance to Langstone harbour entrance where we met some choppy conditions over the sand bars but were swept quickly in to the harbour. We set off across Langstone Harbour with the wind slowly increasing and providing some lovely planing conditions. We made Emsworth for a late lunch stop and departed for the beat up to HISC at about 3pm. The wind had increased to the forecast Force 4 and we made good progress up the channel and on the ebb tide. After a final rendezvous on the beach at HISC we all decided to go for the final leg to the car park. The tide was running very fast and I soon found myself 200yds ahead of the pack and racing out on the tide. I had decided, on the basis of earlier experience in attempting to make the turn from HISC to the sea front, to go a good way out and in the SW wind, make a single tack for the return to the car park. I put this plan into execution and all was well until I ran into extremely rough water. The waves were closely spaced, about 5 or 6 ft from peak to trough and near vertically faced. I was traversing them at a downwind angle on a reach, and on a longboard it was a rock and roll ride. I thought that my only hope of survival was to hang on and hope that I would either get to the beach or break out into quieter water before the waves tipped me off the board. I lasted about 200 yds until I fell off a steep wave, lost drive in the sail and was deposited in the water. I knew that I would not be able to waterstart or up haul in the conditions so I clambered onto my board to assess the situation. A beach transit showed that I was making way to the west - the direction that I wanted to go – but as I was swept past the marker towers in the channel I realised that I was going towards France at a fast walking pace. I hoped that I would be swept out into deeper and quieter water from where I could uphaul the sail and complete the task. I reasoned that I was not in imminent danger and at some time I must find quieter conditions. However, the conditions worsened and I was being assailed by wave after wave that lifted the floating rig and then, as the board was lifted by the passing wave, allowed it to crash down onto the edge of the board. I remembered that the mast foot has a release setting to prevent damage to the board in just those conditions. If board and rig parted, the likelihood was that I would lose the board, leaving me in a serious predicament. I looped the uphaul around my right arm and gripped a footstrap with my left hand hoping that if the rig did part from the board I would be able to cling on to both. Finally, realisation dawned that I would have to swallow my pride and seek help.
I had with me my mobile phone in a waterproof pack. I did manage to get the pack out but the display was not bright enough to read through the plastic cover and with sunglasses, and without glasses I could not read it! In the fierce pitching and tossing that I was experiencing I dare not let go of my hold of board and rig and if I had managed to get the 'phone out of its pack I doubt if I could have used it without dropping it in the water. My only hope was 3rd party assistance. I looked up and saw 2 boats coming down the channel, heading for Chichester harbour. I hailed the first by waving and shouting that I needed help. It was a big power boat with a flying bridge. The occupants waved back at me and continued on their way!
The second boat was a sailing boat with a tender being towed behind. It changed course towards me but missed me. I thought that he too had decided that it was too difficult to get me but might have a radio to report my problem to the coastguard. There was no other boat in sight so I settled for an anxious time clinging to the board. I then sensed over my right shoulder that the sailing boat was hove to about 75 yds from me and the skipper was doing something in the cockpit well – perhaps sorting out a rope. He returned to me and at the 3rd attempt I grabbed the rope that he offered and hung on. The seas swept me in close to his hull and at one point the boat pitched high and I could see all of the underside and the bilge keel and watched horrified as the nose of my board was swept under the hull. I feared damage to either or both when they crashed together but mercifully both survived. I scrambled into the tender behind the boat and braced myself in it. I still had a grip on both board and rig and although rescue rules usually say that you forget the board and rig and concentrate on getting safe but I was reluctant to leave a hazard to boats and of course there was the financial consideration! I had a spare length of rope for running repairs or towing in an emergency. Unfortunately on this occasion I had tied it on with an additional hitch and I was having difficulty undoing it. The boat skipper must have wondered what I was up to as I had my back to him. Also the tow rope between boat and tender was jerking taught and I feared with my extra weight, it might part. I was then on the point of letting the board and rig go, and to hell with the expense, when a large 25ft RIB with crew of 2 appeared next to the tender. I presumed that someone had reported me to the coastguard and the inshore lifeboat had been launched but it did not look like an RNLI craft or crew. With thanks to the sailing skipper for the First Aid rescue I jumped into the RIB and assisted the crew with recovery of my gear. Another small RIB appeared with 2 other helpers. I told them that we were a group of 7 but I thought that 5 had got ashore, and one, John, was close to me when I ran into trouble and may be in similar difficulty. The second RIB crew had seen him so we went over to recover him and his rig. The RIBs were in radio contact with the Coastguard and when it was certain that all of us had been accounted for we were returned to shore at the Lifeboat Station, some 3 or 4 miles away from the carpark. The helmsman told me that only 2 of the group had completed the trip and would drive up to the lifeboat station to collect us and take us back to the carpark so we could then return to load up our kit. However, we had not been given any timeline for the messages and proposed action, so I suggested to John that if he stayed with the kit, I would walk to the car park to collect my car. I preferred that course of action since it was under our control; we had no idea how long we might wait for others to get to us. John agreed and I set off. Now on dry land, I tried to call another member of our party but with no success. I left a message as to our intention. The walk took me about an hour and just as I approached the car park, my call was returned to say that they had only just landed and as soon as they had de-rigged they would drive over to the lifeboat station. I was able to tell them not to bother!
Lessons learned:
I cannot rely on a mobile phone in rough sunny conditions. John managed to raise the alarm as he had had the sense to pre-load the HISC number as a quick dial and could raise them by just 2 finger presses.
Those who managed to complete the course stayed close to the shore as they exited the harbour; still hairy but self rescue is much easier.
If using Beachlands, go anti-clockwise as that takes you into Chichester Harbour on the rising tide and if conditions leaving Langstone harbour are too difficult or the wind has dropped, it is a much shorter walk back to the car park.
For the record, the rescue craft was not RNLI but Hayling Island Rescue, an independent public spirited outfit.
Update March - Telegraph Obituary for Rowland -
Wing Commander Christopher John, BSc(Eng), CEng, MRAeS, RAF(Retired) on 21 February 2019, following a sudden and cruel four-month illness. A young and active 76-year-old, he was a keen windsurfer and member of Seavets and Mudeford Sailing Club, a regular skier and an accomplished DIY enthusiast who fixed and made many things for family and friends over the years. Queen'?™s Scout, Old Culfordian and graduate of Bristol University. Adored husband of Lesley for 55 years, loving father of Jacquie, Nicola and Sara, grandfather of Alex and Sam and father-in-law of Les, Chris and Mark. He will be greatly missed by all his family and friends. A Service to celebrate his life will be held at St Mary'?™s Church, Haddenham, Bucks on Tuesday 26 March at 2 pm following a private cremation. No flowers please but donations, if desired, for Hayling Rescue (histt.org.uk, cheques to HISTT) in grateful thanks for helping rescue Chris when windsurfing with Seavets in challenging conditions in 2008. Enquiries to F J Wilson, Funeral Directors, Haddenham 01844 291200.
January - The funds from the Christmas fair eventually arrived in our bank - donations from the lost property going to HAYLING RESCUE and the rest being available for whatever else might be needed.
We were very fortuante, this year, with Sarah Ghinn organising one of her famous cake stalls and raising over £500 for us. Other stalls and especially the raffle and tombola brought the total up to well over £1K.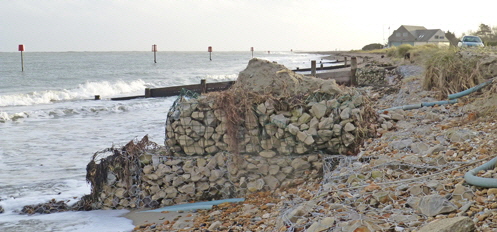 This was indeed fortunate as we fairly promptly had a application for a grant for repairing the Sea Defences along the causeway where the bank had been seriously eroded - see picture - taken by Jane.
Sea defences comes within our remit as without solid walls on the seaward side the Club is very vulnerable - no club or access - no sailing for anybody!
So with a few more, much appreciated, donations from the membership we have now been able to hand over well above £2K - which was about half of the actual cost of the mesh and rocks ordered. The gabions were then constructed and built on top of the existing ones by our hard working crew.
Meanwhile , Hayling Rescue rib went in for her annual winter service and applied for a grant to cover the cost of this. Over £600 was provided and we are expecting further applications for several thousand pounds. There is much more repair work to be done to keep this rather elderly rib in perfect working order for Frank to carry on with his fantastic service.
Shortly, we are also expecting an application from the Thursday Club as we understand that they have several pupils ready and old enough do undergo an instructor course. These courses cost about £300 so we are glad to be able to help out the local children in this respect as it could eventually provide them with an occupation -although it is also hoped that they will continue with the Thursday Club helping out with the teaching.