NEWS 16
DECEMBER UPDATE
Youth Worlds - 29er Gold for Beaumont and Darling
Crispin Beaumont (Bartley SC) and Tom Darling (HISC) take Youth Worlds 29er Gold in Auckland, New Zealand . . Crispin and Tom needed to beat the French pair in the final race and this they did in style, finishing third with the French in tenth . . . The French took the silver and the Australian pair the bronze.
NOVEMBER UPDATE
Tom Darling (18) and Crispin Beaumont (18), Bronze medalists at the 2016 29er World Championships have been named as finalists in the boats.com YJA Young Sailor of the Year.
The winners of these premier British achievement awards will be announced at a gala luncheon on Tuesday, January 10, 2017 at Trinity House, London following a vote among members of the Yachting Journalists' Association (YJA).
Hayling Island SC Optimist sailors have been selected to represent GBR at the Yacht Club de Monaco 2017 Optimist Team Racing Event . . India Page-Wood, Finlay Dickinson, Elodie Edwards and Will Pank will be representing the club. The YCM invited the most competitive clubs from eleven countries, from as far afield as northern & eastern Europe (Russia & Croatia) and north Africa (Tunisia), as well as Spain, Italy and France. Sixteen clubs will take part in the event in early January.
An original match race format for teams of four Optimists, it brings to the fore not just the children's technical prowess, but tactics and above all team-work. Kristine Page-Wood
SEPTEMBER UPDATE
Hayling Rescue

continues to draw on specific funds held in HISTT. During the summer about £4K has been spent with another withdrawal expected shortly for further engine maintenance


Frank

is, as always, everywhere all the time - his rescue work ranging from pulling one of our small racing cruisers off the Lifeboat beach when they tacked too close inshore coming home, to scooping up an irate little Tera sailor who was perfectly happy scooting around in 25 knots till her rudder fell off; irate because she could not finish the race! Specially baked cake was presented to Frank next day!
Recipients of the

Commodores Bursaries

have sent in their reports and pictures -



Tom Darling & his helm Crispin Beaumont

have had a successful season having won the UK Youth Nationals in April; & Tom has been awarded a 'Backing the Best' grant which is a new initiative for the top young athlete in each discipline.
The boys were unlucky not to win the Europeans in Norway in June after a competitor capsized on top of them & damaged their mainsail beyond repair.
The Worlds in Medemblik in July saw over 200 entries & the boys finished 3rd, which is best position for GBR in 8 years. They now qualify to represent GBR at the Youth Worlds in Auckland in December.
A 2nd in the Open category at the 29er Nationals & winners of the Harken Grand Prix Circuit continued their successful year.
Thanks again for

HISTT

support.
Debbie Darling
From India Page Wood -
Dear HISTT Trustees
Thank you very much for the Commodore's bursary fund money, it has helped enormously this last year. I would like to inform you of my progress since receiving your generous gift.
I trained all through the winter at HISC with my coaches Pieter from 8 Days a Week Sailing and Ross Harvey. I trained with a small team of Optimist sailors which my Mum organized and we travelled together as a team to many events around England and Europe, including Naples, Palamos, Marseille, Braassemermeer, Belgium Nationals and many more.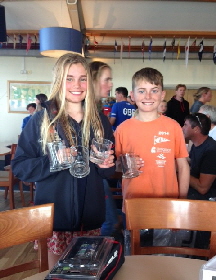 At the end of Winter and beginning of Spring I trained more at HISC to prepare myself for the Optimist Annual Team Selections at Weymouth: my goal at the beginning of the year was to be selected for a team, a hard task! The conditions at Selections were tough but my training and effort paid off, after 4 days of racing I finished 11th overall and 3rd girl. I qualified for the European team in Crotone, Italy. Goal achieved!
Before heading off to Italy I competed in a few local events. At the Lymington Open I finished 1st Girl and 7th overall and at the HISC Open I was again 1st girl and 6th overall. I have attached a photo of me at the HISC Open with Australian Optimist sailor Blake Wilson.
The Europeans in July was a fantastic event and amazing experience. The heat was very draining at first but after a few days the team adapted to the climate. I qualified for Gold fleet, the only member of the team of 8 to do so, and despite an error of the coach, Alan Williams, who sent all the British girls out in the wrong flight giving us all a DNC!!! Sailing in the Gold fleet at such a major event was phenomenal fun. The conditions for the remainder of the event were pretty hairy and fruity and I was a little out of my comfort zone but I coped, my final result was 42nd but sadly will never know my true result as I could not include one of my best races!
I was also selected to compete at the European Team racing event and so returned to Lake Ledro in Italy in late August. I learned a lot from this event particularly about strategy, planning and analysing a race.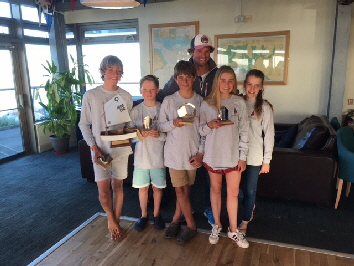 I recently competed at the Optimist Late Summer Championships at HISC; I came 2nd girl and 18th overall. I was a little disappointed with this result so I have more training to do in the coming months. My Mum has arranged another Autumn/Winter training programme with Pieter from 8 Days a Week Sailing and Ross Harvey which I am really looking forward to and will especially enjoy training with HISC members Finlay and Sam Dickinson and Elodie Edwards (Winning team photo attached). We are all off to the Netherlands this weekend to compete in Roompot…so watch this space!
All the above has been supported by HISTT's very kind contribution from the Bursary fund and I thank you so much for your help, many, many thanks indeed.
RED RIBBON TERA COACHING- from Sarah Mitchel - Tera Fleet Captain
We had 12 children signed up for just 6 days of coaching, spread from May to July.
Perfect tidal days were selected and luckily with them came perfect weather too!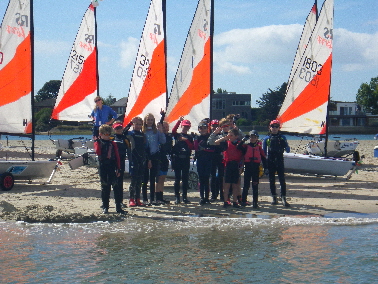 Picture by Melvyn
Melyvn Copper Sailing, Holly Watson and Izzy Allerston were the club's coaches, and they had a superb plan in place to help all these children, with different sailing abilities, temperaments and skills, to all achieve and enjoy some brilliant sailing.
Coaching of this standard, and the provision of ample rescue cover, does not come cheap these days. The Tera Fleet wanted to be able to include as many children as possible to benefit from the club, so we were delighted to receive a grant from HISTT to help towards the coaching costs. Thank you HISTT.
So did it succeed?

More success as a couple of the RRTC children went on and sailed in the regatta fleet at the Tera Nationals, where from the 12 competitors, we had a 7th and a 12th place. Stunning performances from children sailing at Pwllheli who had only sailed around the lagoon before the RRTC!!
More importantly than the success of events is that these 12 children now have a strong friendship group at the club. They are enjoying their sailing and looking forward to more sailing and racing. They have had fun on and off the water and even joined forces to run a cake sale to raise funds for HISTT earlier in the year.
The Tera Fleet is looking forward to working with HISTT in the future as we put forward our plans for winter training at HISC to keep going the momentum of happy sailors .
A massive thank you to all involved.
HISTT IS PLEASED THAT WE ARE ABLE TO SUPPORT THE GRASS ROOT SAILORS AS WELL AS THE HIGH FLYER'S - BUT WE NEED FUNDS TO KEEP GOING!
BOTH THE TERA AND FEVA FLEETS HAVE ASKED FOR FUNDS TO HELP WITH WINTER COACHING (£9K) WHICH WE ARE PLANNING TO SUPPLY
IF YOU WOULD LIKE TO HELP WITH OUR CLUB YOUNGSTERS, PLEASE GO TO THE 'YOU CAN HELP' PAGE ON OUR WEBSITE - www.histt.org.uk - AND DONATE.
ALL DONATIONS ARE INCREASED BY 25% WITH GIFT AID
..............................................................................................................................................................................................
JANUARY 2016
Towards the end of last year, Applications for the Commodores Bursaries, which had been re-instated in their original version, were invited and on January 2nd 2016, the successful applicants, as decided by the Commodore, were notified of their awards.
Tom Darling with his 29er and India Page-Wood in her Optimist were both awarded £1000, provided by HISTT, to spend on equipment and traveling expenses for the various Open Meetings and Championships that they will be attending.
We wish our Olympic hopefuls lots of luck and hope to hear later on in the year of their achievements.
At the other end of the spectrum, we have received a new application for funding. This has come from the Tera Fleet Captain, Sarah Mitchell who, at the request of various of her members, has set up a series of professional coaching sessions to help some of the younger children gain confidence and un-learn some of the bad habits they have acquired!
These sessions are rather expensive so Sarah has applied to HISTT for funds to reduce this cost. It is hoped that this might encourage and help some parents who might otherwise not have considered joining in with these sessions and thereby give more children a chance to improve - and enjoy!
Unfortunately, it has to be recorded that - according to Charity Commission ruling - a CONFLICT OF INTEREST has arisen here inasmuch as two of the children entered on the course are grandchildren of one of the Trustees. At a meeting of the Trustees to discuss this Application and Conflict, the involved Trustee was not included in the discussion and did not vote. However, the other Trustees were in favour and a partial grant has been awarded
Applications from other fleet Captains for coaching their youngsters - e.g. post Seals - will be welcomed.
Meanwhile, Frank continues to have problems with the engine of his rib - Hayling Rescue - and we gather that there will be major expenditure of £4K or more during May that will be covered by HISTT.
The grants towards the Commodores Bursaries are paying off! Tom Darling and Crispin Beaumont are the 2016 RYA 29er Youth National Champions. Well done them for all their hard work training beforehand.
If you would like to make donations for any of these projects please go to - You can help
We always need more funds - and don't forget - all donations gift aided will accrue a further 25%