NEWS 2014
DECEMBER LETTER
Since 1997, Hayling Island Sail Training Trust, an independent charity, has supported sailing for the young and the disabled mostly at Hayling Island Sailing Club.
This year the Trust has funded Travel Bursaries for young sailors to the extent of £2000 - with some spectacular results. Although the actual funds supplied are not great, it is, hopefully, the thought that the Club is supporting them that spurs them on! Hayling Rescue has benefited to the tune of over £2500 to enable the wonderful service to harbour users to carry on. And The Hayling Island Community Sailing Scheme received £450 towards training expenses for instructors for the weekly Thursday sessions.
In 2015 the Community Sailing Scheme will receive nearly £1500 towards training programmes for more young instructors.
Training, rather than Travel, bursaries for up to £2000 will also be continued by the Commodore.
Hayling Rescue will undergo a major refit in the New Year when up to £7000 will be made available towards this good cause.
Incoming funds include £1000 from the HISC Wayfarer fleet and substantial amounts from other Club members including lump sums and regular small amounts on standing orders.
All monies donated to HISTT, if given with a gift aid declaration, earn 25% premium from HMRC to aid the good causes supported.

Happy Christmas from the Trustees.

OCTOBER
Donations continue to roll in for Hayling Rescue. We have had some particularly large ones from very generous members and also a huge collection from the members of the Wayfarer Fleet, all of which is very much appreciated and to all of whom we send our thanks on behalf of Frank. Frank's Rib will, in fact, be going in for its re-modeling session some time in January when hopefully calls for Frank's services will be in abeyance!
Meanwhile, we have had a letter from one of the beneficiaries of the Commodore's Bursaries as awarded last year - From Roddy Bowerman - see below
I though the Trust might like an update of Owen's progress this year following your bursary to him last year. He has had some great results, wining the 29er Youth National title, which qualified he and Morgan for the ISAF Youth World Championships, where they finished 7th in the 29ers. At the 29er Worlds in Kingston, Ontario, they finished 10th overall, which was a wonderful way to sign off their international career in the 29er.
They are now in a 49erFX as a transition boat, as they grow into the full rig 49er, and 2 weeks ago were awarded a place in the RYA Podium Potential squad, which is a huge achievement for them.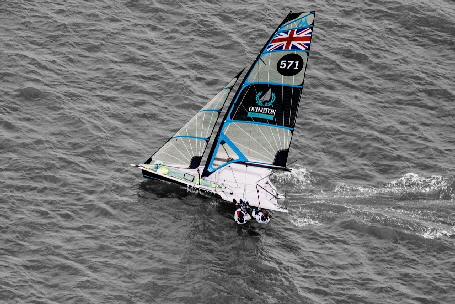 This is a picture his brother Harry took on the way back from taking aerial photographs of the 420 nationals.

Very many thanks again for your support, I hope it seems well spent!

Owen has just started at Bath University, so I thought an update on his behalf would be good
MARCH
Commodore's Bursaries
The Commodore thanked all the candidates for their applications. There were a total of 15 individuals who applied this year, and it was gratifying to see the quality of competitive sailing that our young people are achieving.
He was delighted to be able to say that the committee had decided, after much deliberation, to award the sum of £2000 as a contribution toward this year's racing efforts for five of these candidates - Anthony Parke, Adam Stone, Owen Bowerman, Elliot Wells and Jake Todd. We are sure it will be used well and we look forward to hearing from all of you, how you used it, and what successes you have achieved!
The money, raised specifically for the Youth Bursaries, was received from HISTT and handed over by the end of the month.
We all wish you the very best of luck this season and are sure you will be worthy emissaries for our club.
Condolences to the unsuccessful candidates - better luck next year!
Here are thank you letters from some of the recipients -
Dear Chris (Commodore)
I am writing to thank the club and the Hayling Island Sail Training Trust for awarding me the club Bursary. It will make an enormous difference to my training, leading up to the main events this Summer after A levels, in Germany, for the Europeans, Canada for the Worlds and Scotland for the Nationals. I am in Weymouth this week for the Youth Nationals, and spent some of the money on coaching leading into the event, which has been a real help. Please can you pass on my thanks to everyone who has been a part of the award, and let them know how grateful I am
Thanks again
Owen Bowerman
Dear Bursary Committee,
Thank you for your support in our sailing program, the funds are gratefully received and will be put to good use, the funding will be spread across travel, accommodation and boat maintenance.
This funding will enable us to compete at the highest competitive level and make us proud to represent Hayling Island Sailing Club at home and abroad.
We have just completed a very intensive season starting back in September with the squad selection series which we successfully achieved gaining entry into the RYA Transitional Training Squad in January. Except for a short break over Christmas we have been up and down the country competing and training every weekend including half term, we are presently ranked second in the TT squad.
Squads are now deselected with the upcoming RYA Youth Nationals. Squads will be reselected after the Youth Nationals. We have applied for entry into the RYA National Youth Squad and will be informed at the end of April.
Major events for us this year will be Youth Nationals during Easter, 29er Europeans in Kiel, 29er Nationals in Berwick Scotland, RS 200 Nationals at HISC and our first 29er Eurocup event Garda Italy. We shall of course look forward to competing in HISC Youth Week and the 29er GP circuit.
Please pass on our thanks and gratitude to all involved in the bursary funding scheme and HISTT for their generosity and support.
With sincere thanks
Elliott Wells Jake Todd
This sounds as if it is money well spent - or to be spent - and gives a great insight into the immense amount of hard work that goes into the training of these very talented youngsters.
HISTT would like to be able to provide more funds for next years candidates who will be sailing to this very creditable level.
If you would like to help - please do go to our, 'YOU CAN HELP' page - and donate now!
Hayling Rescue
Donations continue to come in for Frank, sometimes in recognition of times he has aided people on the water. Please do remember that if Frank comes to help you, that his is practically a voluntary service and any donations to his fund are always welcome to go towards the upkeep of the